Something came through the post that made me drop my coffee last week. Now recently I've done a bit of CAMRA bashing, but after this I really am doubting how much I want to stay involved. I've been asked to help organise one of their beer festivals, which is good fun, but I'm finding myself disagreeing with them on more and more subjects recently.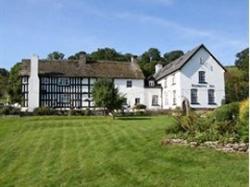 The Rhydspence Inn is a local coaching inn - a lovely looking black and white tucked off the main road from Brecon to Hereford. It's not in a town, village or even hamlet - just four houses are in the area.
The owner has been trying to sell it for several years, with very little interest apparently. Having reduced the asking price several times, he's now decided to apply for a change of use to a private dwelling. He's just had enough of the trade and wants to retire.
The following letter came through regarding this at the end of last week from Herefordshire CAMRA:
EDIT: I've now had time to re-type my main points throughout their letter in blue:
The Rhydspence Inn is on the main A438 Hereford-Brecon road, just beyond
Whitney-on-Wye. It is one of the most historic inns in Herefordshire and
the UK, with parts dating back to 1380. The pub's website suggests
it has been a hostelry continuously from day one, and at one time would
have been frequented by the sheep drovers who passed through this part
of the world. Have a look at the pub's website at
will get a flavour of what this pub is about. Two images have been
posted into the 'Photos' section of camrawm Yahoo!Group site.
This Grade-II listed timber-framed building has many charming original
features, including fine fireplaces and settles, and has always been a
landmark pub of great character and distinction. It enjoys scenic views,
and commands a great position on the main A438. Located nearby is the
fashionable and popular town of Hay-on-Wye, with its
internationally-renowned festival.
But now its owner has submitted a planning application to Herefordshire Council
seeking to convert the Rhydspence Inn into a private dwelling. To
justify this, he states that his business is no longer financially
viable and that no-one has expressed an interest in buying the pub,
despite it being on the market for a number of years.
VIABILITY - HIS BUSINESS MIGHT NOT WORK, BUT WHAT ABOUT OTHERS?
With these strong attributes in its favour, it is our view that it is
not credible to suggest that the pub is not viable.
So a consumer organisation knows more about the viability of the business than the owner? The guy who's been running it for years, with access to GPs, turnovers, general trends? In the 4 years I've been in Hay the price of a pint of Butty has raised from £2.60 to £3.10 - that's just one example of the big changes that have taken place in the last 4 years. You've also just called the landlord a liar ('not credible').
Whilst it should be
acknowledged that the present owner's business is no longer viable
(probably not helped by his personal circumstances - the impact of these
can be seen by looking up the inn on the Trip Advisor website), we
believe that a new operator could make a real go of the business.
Having checked the Trip Advisor website, 7 out of 10 reviews recommend the place. The first negative review was from a gent who sees no problem arriving 40 minutes early for food, allows his self-confessed blind mum order a fish dish full of small bones and doesn't send back a rack of lamb that must have cost £15 at a bare minimum. I could believe most CAMRA members wouldn't have an issue sending back a £3 pint of ale they weren't happy with.
It
just needs some TLC, a warm welcome and updating to tap into lucrative
markets such as out-of-town fine-dining, and accommodation for the likes
of the Hay Literary and Brecon Jazz festivals. The locals' trade
that has been allowed to die off can also be re-invigorated.
You do it then. Put your money where your mouth is - you make it sound so easy. It comes across as bloody dismissive of the hard work all the licensees in the area (and further) put in just to keep their doors open. As for the locals trade, have a look at this google map that shows you just how many 'locals' the pub has.
I'll give you a clue, it's the same as 2 couples...
EFFORTS TO SELL THE PUB NOT GENUINE
The pub has been on the market for a number of years - at an asking
price steadfastly in excess of £750,000 freehold. That is an
astronomical amount of money, and it is unlikely that any licensed
establishment in Herefordshire could justify this asking price.
I know of at least 2 pubs sold in excess of this price. Given the original asking price was around the £900 000 he's reduced it a fair bit so far. But this just shows how little research has been done to find out other pub prices in the area. Speaking of which:
Our view
that it is grossly over-priced is shared by others in the trade, and
will be highlighted (with full supporting evidence) in the CAMRA report
to the Herefordshire Council planners. Doubtless this unrealistic asking
price has deterred potential buyers, thus the owner claims "no-one
is interested in the business." This does not constitute a genuine
attempt to sell the business or justify converting the pub into a
dwelling.
Who are these 'others in the trade'? And by saying 'others' do you consider yourself to be 'in the trade'? Now your telling us as a matter of fact that this asking price is 'unrealistic' - your yet to prove it. The final sentence is missing a few words: In CAMRA's Opinion
QUESTION NEEDS TO BE ANSWERED
We must make sure that before consideration is given to an alternative
use for the building that it has been genuinely marketed at a realistic
price. CAMRA believes that this has not been done, therefore to grant
planning permission would be highly inappropriate. We need to ask the
Council planners whether they believe the pub has been marketed
appropriately to attract a buyer.
But you've made it perfectly clear, presenting as factual, that it hasn't been marketed appropriately. So you don't need to ask, you need to them that in your highest-of-high opinions 'to grant planning permission would be highly inappropriate'.
ACT NOW!
If there was only ever going to be one time in your life that you were
prepared to write a letter (or e-mail) to the Council planners then this
should be it. We cannot allow such an important pub, with such history
and potential, to be killed off like this. If we lose the Rhydspence Inn
then a precedent might be set meaning that none of our pubs would be
safe from speculation in the future.
How you can help?
* If you get the opportunity, please visit the Rhydspence Inn -
it isn't far from Almeley, where we have our next branch
meeting on the 26th January.
Ah, about this 'important' pub. How many times has Hereford CAMRA arranged a trip to it? How many of their members have submitted NBSS scores on it? Surely such an important pub is worthy of a CAMRA meeting? Nope...
* Please write to or e-mail the Council stating that you wish to
object and your reasons why. You must include your name and address
for your objection to be valid. If you can relate to times you have
visited the pub, then that would be useful. You do not need to say
you are a member of CAMRA, but you can if you wish. Whatever you
write it doesn't need to be long, but please do USE YOUR OWN
WORDS.
That would be useful? Surely visiting the pub is essential to prove how important it is? The council wouldn't accept a load of emails saying 'we've never been, but...' would they?
* Send your e-mail to Phillip Mullineux at
Alternatively, you can write to:
Herefordshire Council Planning Services, PO Box 230,
Blueschool House, Blueschool Street, HEREFORD, HR1 2ZB.
* To view the application and make an online submission visit
the Council planning website -
If this link does not work then
navigate to the `View Planning Applications' page and input
the reference 103369, or postcode HR3 6EU.
RESPONSES MUST BE SUBMITTED BY THE 9TH FEBRUARY 2011
I fully dissected this on their forum, to very little response so far. My locals went in Saturday night to see the landlord, and because of the way he's been portrayed in this release he wont be opening again in the near future.
I haven't the time to go through the many reasons why I hate this piece, I'll do that later. But one idea I do want to leave you with - if CAMRA believes so strongly that a pub should remain open as a pub, they should stump up the cash and run it themselves. If they really think it's so easy at a time when over 30 pubs a week are closing, in an area saturated with pubs (and destination pubs at that) then they are being bloody rude not just to the licensee, but to all licensees working their arses off to keep their businesses going.